Home Decor
Chef Curtis Stone shares 5 tips for a happier, more efficient 2021 kitchen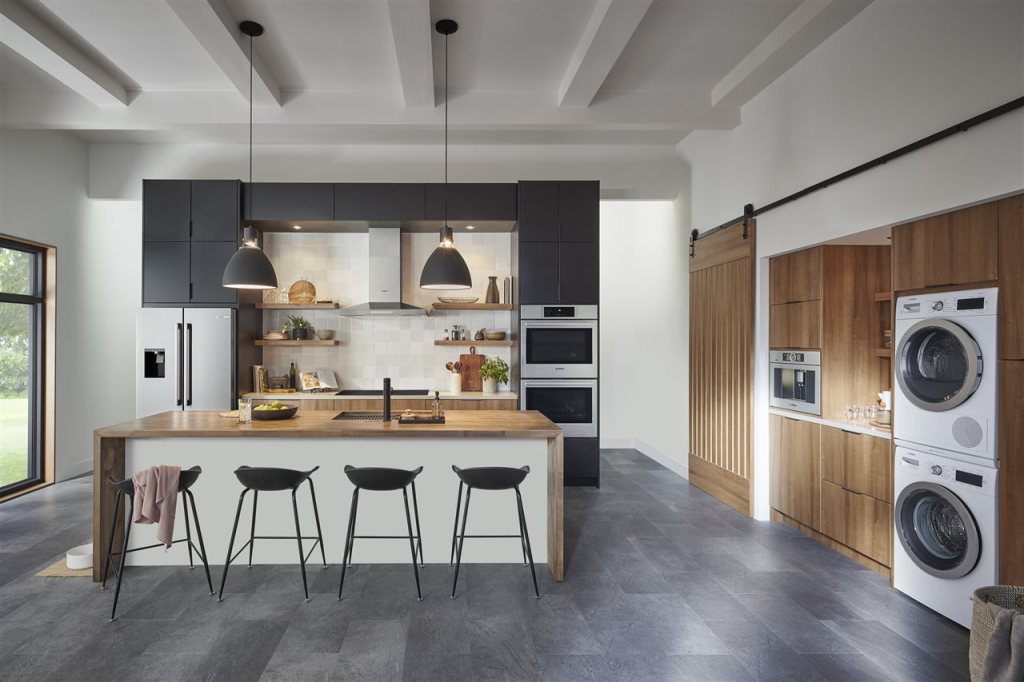 The kitchen has long been the heart of the home, and now more than ever is central to our lifestyles. With 60% of Americans discovering a greater appreciation for cooking throughout the pandemic and planning to upgrade their kitchens as a result, Michelin-starred Chef Curtis Stone is sharing his favorite appliances, features and tips that have allowed his family to better savor more time at home.
"As a chef, restaurant owner and father of two, I'm a strong believer in making your kitchen work harder for you. Whether you prioritize keeping your food fresher longer or find yourself experimenting with new cooking techniques and recipes, here are a few of my latest 'must-haves' for maximizing efficiency in the kitchen of 2021."
1. Put quality first.
If you ask me, there are two keys to making good food: great ingredients and quality appliances. That's right, Michelin star not required! Restaurant-quality results are easy to achieve when you use fresh ingredients — always shop in season — and the right tools. I'm a big fan of appliances that combine power, quality performance and high efficiency. The new Bosch industrial-style ranges and rangetops are a great example — sure to turn heads in any kitchen and also keep up with all that extra cooking!
2. Prioritize health and wellness.
From the ingredients we're putting into our bodies to managing busy schedules, health and wellness are an important part of happiness and energy. I recently learned that hydration plays a big role in our overall well-being. A recent study found that those who drink six or more glasses of water a day tend to be happier, wake up feeling more refreshed and are most likely to describe themselves as successful. Over half of Americans are also 'ice obsessed' and drink less water if it is not cold or iced.
This could not be more true in our home — my boys are always in and out of the refrigerator for iced beverages — which is why a refrigerator that can both keep up with our fresh ingredient storage and ice and water habits is key. The latest QuickIcePro System refrigerators from Bosch produce a lot of ice quickly, thanks to one of the fastest ice makers available so you won't be running out of ice anytime soon.
3. Streamline your kitchen space with versatile equipment.
We're all cooking more than ever, with 85% of Americans trying at least one new recipe a month, but that is no reason to overcrowd your kitchen space. Opt for equipment that has multiple uses — from utensils to appliances to the ingredients you use. For example, the latest wall ovens have become so versatile, they double as pizza ovens, turkey roasters and dough proofers, monitor the internal temperature of your dishes and even sear the perfect steak, all in one.
4. Let technology do the work for you.
Sometimes it feels like we never slow down. Thankfully, certain technologies are designed to create efficiency, convenience and peace of mind, so we can spend less time on chores and more on what matters most. Picture this: your wall hood automatically turns on when you start cooking, a simple slide of a pan changes its temperature, your oven shuts off and notifies you when dinner is ready, and you can skip drying dishes post-dishwasher cycle. It's all possible in the Bosch kitchen of 2021.
5. Plan, organize and store for fewer trips to the market.
Kitchen organization and fewer grocery runs start with a good list. Opt for versatile ingredients, plan for meals that stretch across multiple days and again prioritize quality when it comes to storage. My family chose a refrigerator that offers precise temperature and humidity control for maximum freshness. I also recommend organizational features that bring items into view, such as flexible, multi-layered shelving and wide storage bins so nothing gets buried.
One of my favorite healthy new recipes, this veggie-packed pasta bake, can not only be made ahead, it also makes for delicious leftovers that can be quickly reheated in the oven for an easy weeknight meal. Check out the full recipe below, and cheers to a happier, more efficient 2021 kitchen! (BPT)
Cauliflower & Broccoli White Cheddar Pasta Bake
Serves: 4
Prep Time: 10 minutes
Cook Time: 30 minutes
Ingredients
1 head cauliflower, cored, cut into large bite-size florets
1 pound broccoli florets
Kosher salt, freshly ground black pepper
1 1/2 cups dried penne
3 tablespoon olive oil
1 small yellow onion, finely chopped
1 tablespoon fresh thyme, finely chopped
1 tablespoon all-purpose flour
2 cups whole milk
1 cup heavy cream
1 1/4 cups shredded white cheddar cheese
1 cup very coarse fresh breadcrumbs (made in a food processor or blender from 2 slices bread)
1/2 cup grated parmesan
Steps
Preheat oven on broil mode. Lightly oil a 2-quart baking dish or 4 individual crocks.
Bring a large pot of salted water to a boil. Add cauliflower and broccoli. Cook for 2 minutes or until broccoli turns bright green. Using strainer, remove vegetables from boiling water and submerge in a large bowl of ice water. Drain and set aside vegetables when cool.
Return salted water to a boil. Add penne, stirring often for 7 minutes, or until tender but still firm to bite. Drain penne.
Heat a large pot over medium heat. Add 2 tablespoons olive oil, onions and thyme. Cook, stirring occasionally, for 2 minutes, or until onions are tender and slightly browned. Sprinkle flour over onion mixture, then stir and cook for 1 minute, or until pale golden brown.
Gradually stir in milk and cream. Increase heat to medium-high and bring to a simmer. Reduce heat to medium-low and simmer, stirring often for 4 minutes, or until sauce is lightly thickened and has no raw flour taste. Reduce heat to low, add cheddar cheese, and stir until melted. Season with salt and pepper.
Add vegetables and penne to cheese sauce and fold together. Spread evenly in baking dish.
In small bowl, toss breadcrumbs, parmesan and remaining 1 tablespoon olive oil to coat, then sprinkle over pasta mixture.
Broil for about 4 minutes, or until crumbs are golden. Let cool for 5 minutes before serving.